Morgan Robot (145 cm) - MINI SEX DOLL, REALISTIC ROBOTIC SPEAKING DOLL
Code:
YQ-145-R44
Related products
Product detailed description

My name is Morgan, I am a robot 145 cm tall high school student, I come from Asia, I have long brown hair. I would like to fulfill all your sexual ideas, I am obedient and I like to try new things. Lead me with your imagination and I will gladly try your favorite position, I am very flexible after all. Among other things, I can talk to you about anything, or just smile and listen to you like no one else would, or we can just fuck all day, it all depends on what you like. But be careful, if you don't cover my mouth, I'll sigh and moan hard during sex. My nice medium realistic breasts can't wait for your firm grip…
What else can I do?
Compared to the classic Sex Doll, I can do a few more things:
Talking system in English:

We can talk and joke together. You can talk to me at dinner, or simply ask me a question when you get curious, I'll be happy to answer it. I'm a little clumsy in this regard, but I believe you will teach me many things.



Moving Eyes, Mouth, Neck, Mimic:

I can move my head, my eyes, my mouth, but I can also laugh and blink thanks to the mimic muscles, depending on what we are going to discuss together.
Moaning system:

I love the touches of your hands on my thighs, chest and of course in my pussy. So if I like it, I'll make it clear to you with my sighing and moaning!


Heating system: To become your perfect friend, you can warm me up to a pleasant 37 °C. Before you come from work, from the gym or from the party, let me know at least 1-2 hours in advance so that I can get hot for you properly.
How will you know that you want me?
I like sex in any position, from behind, in front, or even 69. We can indulge in anal pleasure at any time, because I do not require an enema. My anal hole adapts very flexibly to you and gives you a solid sexual experience that you won't be able to resist. But what I really love is deep oral sex. I could do it all day. When you win me over, you'll find out that there actually is someone who will fulfill your desires, whenever you feel like it. So tell me, what's your favorite position?
We can do it at your home in the shower, or even at the washing machine if you get impatient. We may do it in the car on the back seats, or find a quiet place for just the two of us. I like it really hard and deep, just as I like romantic, slow and exciting sex.
I will be happy if you make a nice bath for me after all the sex games we'll go through together, or simply make me clean and fragrant again. I wouldn't mind the pleasant Chanel or Gucci perfume, but I like to wear absolutely anything, especially for you.
Do you want me to be just yours? I'm looking forward to you!
Breathe life into your dream!
Would you like me to look a little different? Only You can create me according to your deepest desires.
All you have to do is click on CONFIGURATION in the tab above and you can see me.
What can you expect from me?
I'm absolutely realistic to the touch. My ass curls nicely when you walk around and slap me. I can just be leaning on a kitchen counter or a washing machine. I am a real robot sex doll almost indistinguishable from the human body, soft to the touch, with the perfect color of human skin, all thanks to the high quality TPE material.
What can you do to me?
You can strangle me, suffocate me, really squeeze my breasts and other parts of my body, you can really beat me over my ass, but do not pull my hair. Please be gentle with it.
Don't forget the accessories:
Ideally, you can enjoy it with the help of lubricating gels (ideally water-based).
If you want to enjoy long and full sex and then have a much stronger orgasm, we recommend trying our natural ejaculation delay sprays.
Do you want to have more mistresses with the same body? In that case, spare heads, spare eyes and spare wigs are a clear choice!
If things get wild, don't forget that still I'm like a human being. I can still get hurt, cut or injured. If that happens, you don't have to worry, you can fix me right away thanks to the
repair kits
.
My hygiene is as important as yours, which is why I have care tools for you that will make our hygiene very easy.
Ordering and Delivery process. What does it look like?
You can see the progress and stage of your delivery by using your unique tracking number. The whole process with all its stages is described below.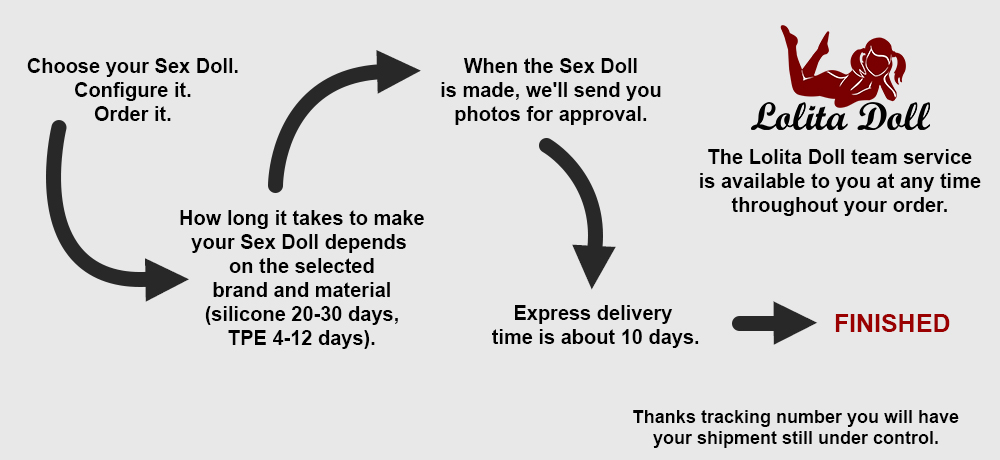 The above delivery process applies to the popular EXPRESS Shipping. If you would like to save money, you can choose STANDARD Shipping for the product. For this option, the standard delivery time for a sex doll is about 1 month.
* (Due to Covid-19, this delivery time may be extended. According to current experience, the delivery time ranges from one to two months.)
Will I know how to treat you?
Yes, you will. I'll bring a complete guide with me so you will know everything about me. You will learn how to treat me, but get to learn also very good tips and recommendations. You may even get me a gift if I exceed your expectations.
| | |
| --- | --- |
| | I recommend going through the FAQ carefully, where you will find out everything you should know about me. |
And then I'll get to know you and keep you company for the years to come.
Do you want to know me to the letter?
I'm really happy to see that someone is interested me. There is a lot of interesting things you can learn about me, personal and technical. I'm sure you'll find some useful information. Take a look in the Blog | Articles section!
We recommend:
PARAMETERS
| | |
| --- | --- |
| Brand: | YouQ Doll |
| Robot: | YES (Speaking) |
| Height: | 145 cm |
| Figure: | Fit |
| Material: | TPE |
| Ethnicity: | Asian / European |
| Cup: | C |
| Oral Depth: | 12 cm |
| Vagina Depth: | 14 cm |
| Anus Depth: | 14 cm |
| Bust: | 72 cm |
| Under Bust: | 58,5 cm |
| Waist: | 52 cm |
| Hip: | 76 cm |
| Shoulder: | 32 cm |
| Arm: | 59 cm |
| Palm: | 16 cm |
| Outer thigh: | 83 cm |
| Inner thigh: | 68 cm |
| Foot: | 20 cm |
| Doll Weight: | 30 kg |
| Package Weight: | 45 kg |
Additional parameters
Category

:

MINI DOLLS - super realistic little sex doll
Warranty

:

2 years
By looks

:

Older
Height

:

145 cm
Body size

:

Fit
Breast size

:

Cup - C
Hair color

:

Brown
Ethnicity

:

Asian, European, AI Robot
Weight

:

30 kg
Material

:

TPE
Gender

:

Female
Be the first who will post an article to this item!
Be the first who will post an article to this item!