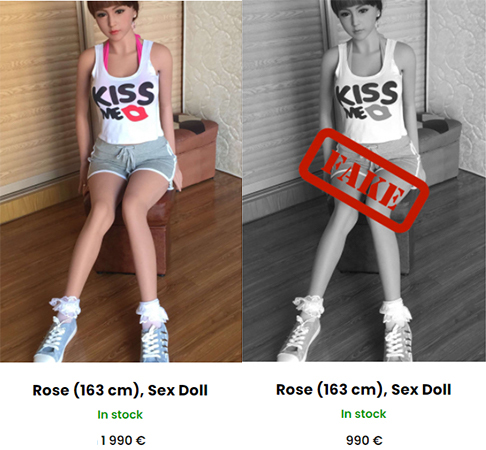 Speaking of quality, you would want to avoid buying a sex doll that is made of low-quality materials because such products will not serve its purpose for an extended period of time. Besides not being able to fulfil your sexual fantasies, using sex dolls made of substandard materials might also give you health problems. Therefore, ensure that you only invest in high-quality sex dolls even if it costs you a bit more.
Watch out for fakes!
The sight of unusually low prices can unfortunately cost you more in the end. There are many such fake e-shops on the web worldwide.


There are two options that customers have already encountered:
The first, worse case, customers never get the goods they order. The contact to the company leads nowhere or the people they contact are always different and the problem cannot be resolved.


The second, less serious case, customers receive goods that are of inferior quality and do not represent the product they expected. These may be cheap imitations or counterfeits, which ultimately can be used as a Sex Doll, but might visually look much worse and work as a sexual turn-off or simply not be suitable for sex at all.


How do you know it's fake? It is almost impossible to distinguish a counterfeit from an original by a photograph, but there are some clues:
Price

- If someone offers a Sex Doll for almost half the price, it is a fraud or a fake.



Manufacturer Info

- If the product does not have manufacturer information, that's a signal for counterfeit products



Seller Credibility

- We recommend exploring the seller's credibility.

The problems with poor counterfeits are usually:
Counterfeit Sex Dolls usually do not have health tests.


Not using high quality TPE material, with the overall degradation of the human body, the Sex Doll is not visually faithful.


The quality of such a fake Sex Doll does not exactly match the original photos, they are always different and unrealistically elaborate.